Whether you're searching for a senior living home in Portland or in one of Oregon's smaller cities, the state has a range of options. The transition to an elderly housing facility is a big decision. Not all providers are alike. What are the services you should be focusing on? Is assisted living enough, or is specialized care required?
Perfect senior living facilities don't exist. But there are many that will match your specific needs, and the search process does not need to be a stressful event. Our top 15 Oregon elderly adult communities are the state's leading providers. If you do not see your city represented in this list, our senior living directory can help you to identify a community in your neighborhood. We are also available to guide you in your search and you may contact us at your convenience.
How to Choose an Oregon Senior Living Community
Being close to loved ones is important. A senior living community that is hours away from family and friends is not ideal. But there are many other factors to consider as well. For example, proximity to your primary care physician or specialists and your hospital is very important. As is making sure the facility you choose has reliable transportation for monthly appointments. These are issues to consider when choosing a senior living community.
Ranking The Best Senior Living Facilities in State
Rankings can be difficult, especially choosing a handful from hundreds or even thousands of quality providers. There is a lot to consider, and our rankings of the top Oregon elderly housing facilities took into account the reviews left on our website, reviews on reliable sites such as Facebook and Google. Feedback from citations or violations from the Oregon Department of Health were also taken into consideration. We assigned the providers a score from 1 to 5, and arrived at our highest ranked communities in Oregon.
The cost of assisted living in Oregon is highly dependent on the senior's needs. Nursing homes as well as memory care provide the highest level of care, and this can result in thousands of dollars more per month. By contrast, independent living is for active adults and is comparable to local rent. The average price for an assisted living community in Oregon is $2,400. This includes meals, basic amenities, and services.
Top Rated Oregon Senior Living Facilities

4.8/5 Average Rating of Facilities
490 Total Reviews
---
175 South Garden Way
Eugene OR 97401
Living Types Available: Independent Living

4.9/5 Average Rating
24 Total Reviews
What residents and loved ones have to say about Garden Way Retirement Community:
My grandpa has lived here for almost a year and has loved it. We visit him all the time and have loved the service. Good food in the restaurant with a special that changes daily. Good prices for visitors too.

-Drew Mckay
---
3760 N Clarey St
Eugene OR 97402
Living Types Available: Independent Living, Assisted Living

4.8/5 Average Rating
13 Total Reviews
What residents and loved ones have to say about Evergreen Senior Living:
The process of getting my grandma into assisted living has been pretty darn smooth, especially considering the whole fact we have a pandemic going on. The rooms are very nice and the staff so far has been even nicer. Brandy has been an actual joy to work with.

-Vanessa Crump
---
2440 Willakenzie Rd
Eugene OR 97401
Living Types Available: Assisted Living, Memory Care

5.0/5 Average Rating
20 Total Reviews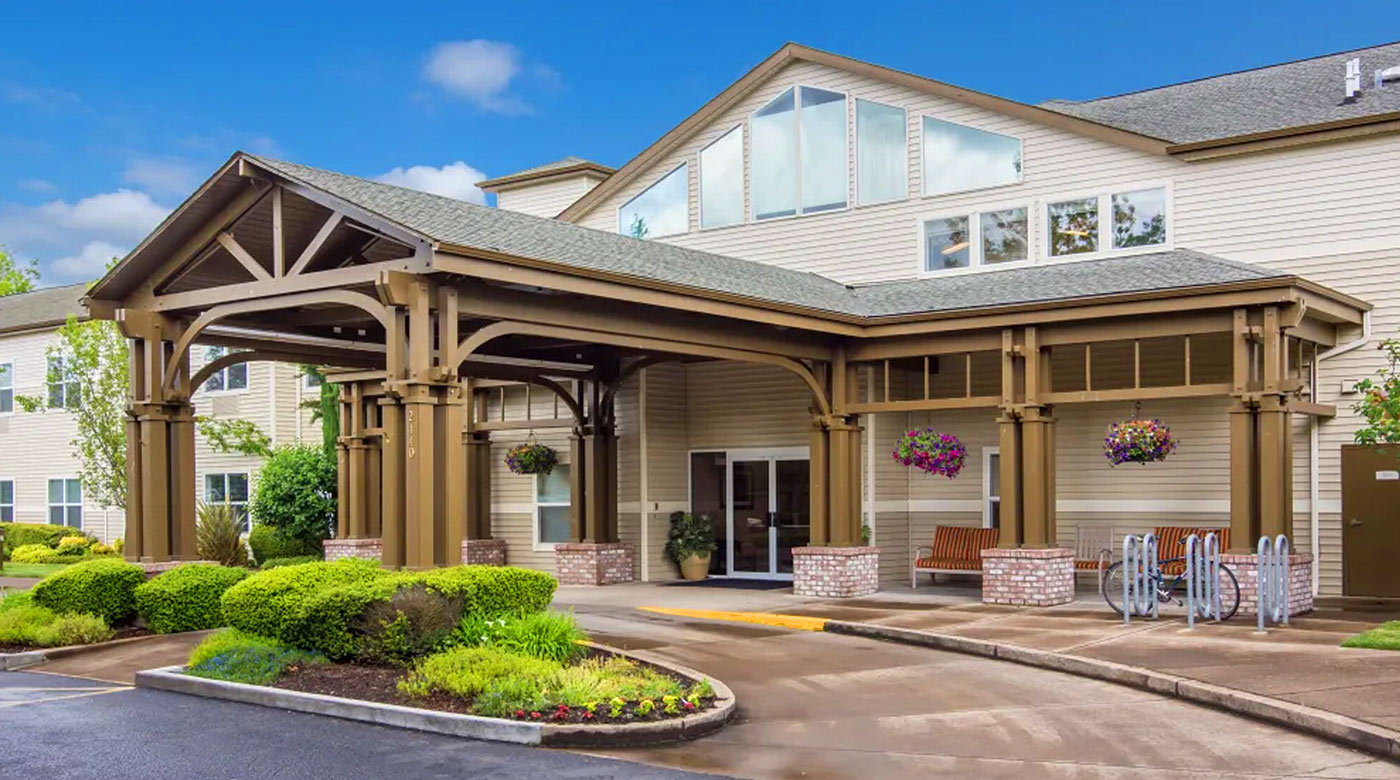 What residents and loved ones have to say about Sheldon Park:
I am very, very happy with Sheldon Park's memory care. I have walked in at random times and have always found my mother in a good situation. Either being treated well by staff or talking to other residents. She tells me about activities she has done or excursions she has made. They transport her in a bus to her appointments. Everyone I have dealt with has been helpful. Sometimes when I come in a staff member notices me and often knows where my mother is! It's a bit of a drive for me to get to North Eugene, but very worth it. I doubt there is a better place in town.

-Rhett Anderson
---
5353 SE Columbus St, Albany, OR 97322
Living Types Available: Assisted Living

4.8/5 Average Rating
12 Total Reviews
What residents and loved ones have to say about Mennonite Village at Quail Run:
My Mother has lived at this facility for 3+ years. I can't say enough about the staff & they way they interact with the residents. Knowing that they take good care of my Mother & treat her with respect is very comforting.

-Cindy Wibbens
---
377 NW Jasper St
Dallas, OR 97338
Living Types Available: Assisted Living

4.8/5 Average Rating
42 Total Reviews
What residents and loved ones have to say about Dallas Retirement Village:
My father Gordon Kunke was a resident at DRV for nearly three years. After recovering in Skilled Nursing from a fall suffered in his home, he moved into Assisted Living and ultimately spent the final two months of his life in the Memory Care unit. I cant overstate the appreciation I have for the continuum of services available at DRV, and for the kind and caring staff providing them. Dad was always treated with care and respect. I regularly observed staff going out of their way to be sure he had what he needed. My family is grateful for the efforts of everyone at DRV who made the last years of Dads life such a blessing.

-Steve Kunke
---
1125 NE Watt Way
Bend OR 97701
Living Types Available: Independent Living

4.9/5 Average Rating
20 Total Reviews
What residents and loved ones have to say about Touchmark at Pilot Butte:
When we first started looking into this option we thought it would be too expensive but when we sat own to pencil out the details we realized that it was actually quite affordable considering everything that is included. Our family was worried that we were looking at moving into an "old folks home" but once they saw The Alexander they wanted to move in themselves! With only one of us driving it is great to have doctors so close by and we enjoy not having to worry about caring for a big house.

As soon as we walked in the front door we realized that living here would be like being on a cruise. We've used pretty much everything except the pool. We love the Wally bar and especially enjoy happy hour and wine at a Wednesday. We can go to the bar and watch a game and have dinner which is a lot of fun, especially when all the regulars show up! The location of The Alexander is very convenient for our lifestyle, it is close to our doctors and emergency response are great because the hospital is so close. It is also nice to leave and be gone for a month and not have to worry about anything. Service has been great -maintenance is very responsive with repairs and we feel very secure living here. It is like one big happy family and we have never regretted making this move!

-Geri Frickey
---
16872 SW Edy Rd
Sherwood OR 97140
Living Types Available: Independent Living, Assisted Living, Memory Care

5.0/5 Average Rating
23 Total Reviews
What residents and loved ones have to say about The Ackerly at Sherwood:
My New home here at the Ackerly is truly a wonderful place. The Staff makes you feel like family, so helpful with any request you might need. All the Staff is outstanding, and I would like to thank one special young man by the name of Nathan in Plant Operations for his assistance in getting set up in my new home. Also, my thanks to Cary who helped me choose The Ackerly. She is amazing.The kitchen staff is definitely delicious and very attractively served. The food is served with class. Anyone interested in a new home with caring people and security should definitely check out The Ackerly.

-Jeanne Schwindt
---
1241 NE 6th St
Gresham OR 97030
Living Types Available: Memory Care

4.2/5 Average Rating
5 Total Reviews
What residents and loved ones have to say about Sapphire at Liberty Pointe:
Its better than a nursing home, so I cant complain to much. I wish they had more one on one time. I love the activities they have. Lots of arts and crafts, games, and socialism. There is housekeeping and laundry once a week unless things happen.

-Name
---
19945 SW Boones Ferry Rd
Tualatin OR 97062
Living Types Available: Assisted Living

4.3/5 Average Rating
12 Total Reviews
What residents and loved ones have to say about Marquis Tualatin Assisted Living:
I've been living here since June 2019 and its been a wonderful experience. The building and staff are marvelous and they take care of everything I need. I'm living well and thankful that I have such a nice apartment to call home.

-Dona Thorsen
---
2853 Salem Ave SE
Albany OR 97321
Living Types Available: Assisted Living, Memory Care

4.8/5 Average Rating
24 Total Reviews
What residents and loved ones have to say about Waverly Place:
All who work here are kind and caring. They take time to really listen to their residents. There are many activities to choose from, many food choices, and the facilities are very clean and bright.

-Lee Huff
---
More Highly Rated OR Senior Living & Care Facilities
The Cottages Senior Living Portland
Mount Angel Towers Retirement Community