Senior apartments are a wonderful option for mature adults who are looking to relocate for the next chapter of their lives, but are still active and independent. They are designed with each individual senior in mind to accommodate their personal lifestyle and needs.
These communities only permit people over a certain age to inhabit them. 80% of the property must be inhabited by seniors. The remaining percentage must be deemed eligible to live on property. Senior apartments are the same as all-age-apartments but have age restrictions and typically more amenities.
The units vary in size and setups. They can consist of a smaller unit or a larger, suite-style approach with more than one senior in each unit. Each senior gets their own bedroom and shares common areas such as the kitchen, living room and the restroom.
The Difference
Regular apartments and senior apartments share many similar amenities and qualities. Independent living units are more "age-focused" and cater to the needs of the older residents. Also, your neighbors will be your age as well, which promotes healthy bonding of people of the same age group. There are no children on property which keeps noise levels down and seniors happy.
There are a variety of senior living communities available for your loved one. The different age restrictions depends on the community, but 55+, 62+, and 65+ properties are the most common. Each community features amenities that are appropriate for each respective age groups interests.
The Advantages of Senior Apartments
You'll find that there are many benefits and advantages available. The most important is the residents being able to maintain their independence and lifestyle. You or your loved one will also live solely with neighbors who are in the same age group.
Most communities offer planned activities that engage the members. They can be offered daily, weekly and monthly. These activities can include:
Arts and crafts
Exercise classes
Movie nights
Get-togethers
Card game parties
Another advantage of senior apartment living is the security measures taken. Emergency alert systems and cameras adorn the community to ensure the peace of mind and protection of all senior residents. Some properties may even offer security-patrolled services and hire security officers to monitor the entryways for extra safety.
Available Amenities
Amenities available are sure to make your loved one feel welcomed, accepted and entertained. Here is a list of the most common amenities in senior apartment homes: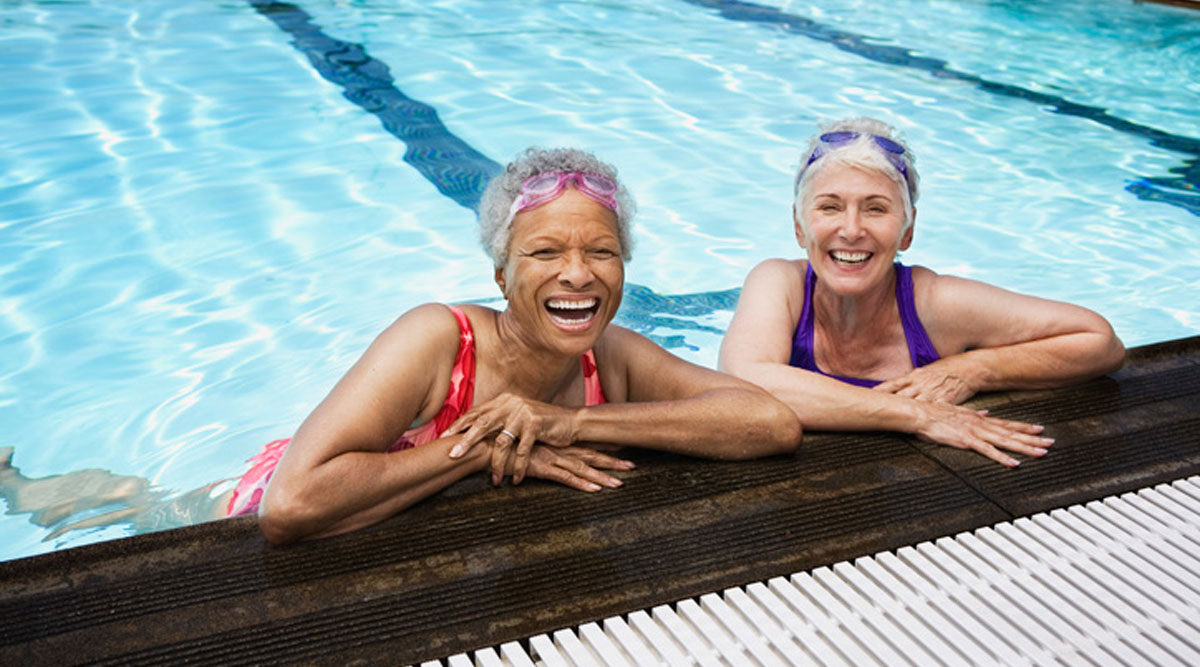 The amenities of a senior community can include:
Swimming pools
Well-lit sidewalks
Walking paths
Fitness centers
Step-in showers
Well-lit closets
Elevators
Emergency calling systems
Social areas
Planned activities
Computer rooms
Community centers
Cafes
In-unit washer and dryer/laundry facilities
Library
Arts and crafts room
Salons
Barbershops
And more!
Please note that personal services, such as assistance with medicine and hygiene, are not offered in these senior residences. This type of senior living is for aging adults who are capable of living fully independently without outside assistance.
How Much Do Senior Apartments Cost?
The cost of senior apartments can vary from state to state. Additionally, there are several types of senior apartments available including affordable, market-rate and luxury, high-end.
The majority of senior apartments cost between $2,300 and $3,500 per month. There is also a one-time fee charge that runs between $500 and $1,500 which includes admission and the apartment preparations for the senior's stay.
Affordable – Affordable senior apartments indicate the senior pays no more than 30% of their income for both rent and utilities. Eligible senior residents can also receive vouchers that allow them to rent in specific senior communities.
Market Rate – These types of senior apartment communities offer competitive rates. They are typically around 15% below traditional apartment rates and offer services designed for seniors. These amenities can include housekeeping, community dining services and transportation.
Luxury – These units are much larger than traditional senior apartments. The units can reach up to 2,000 square feet and offer upscale amenities for senior residents. Luxury senior apartments are often located near cultural activities and in big cities.
You can check your local listings in your specific zip code to see the monthly or annual cost in your area for the specific senior apartment you are seeking. You can also determine which type of senior apartment you can qualify for.
How Do I Find Senior Apartments Near Me?
If you or your loved one are ready to begin the exciting adventure of relocating, now is a great time to start. Please feel free to peruse our directory of available senior apartment communities near you. You can use the Senior Living Directory link and search by your specific city and zip code or the location you desire.
There is a community that is perfect for you or your loved one. They will immediately feel welcomed and at home in their new residence. Your independent living awaits you!