Get Free Assistance! Speak with a Senior Living expert about Colonial at Tampa.
---
About Colonial Assisted Living at Tampa
We're not just Compassionate, We're Affordable Too!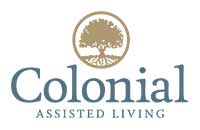 Do you want senior living that is not just highly rated, but also affordable? Colonial at Tampa has good news for you. We're part of a network of Florida communities known for providing just that.
Seniors looking for a wide selection of choices for care and lifestyle will be thrilled with our assisted living communities. If you need a little help, total assistance, or anything in between we have you covered. Our communities provide empathy and kindness without the big price tag of other senior living. The culture we've built is designed around sympathy, kindness, dignity, and respect.
Communities provide all of our seniors with an amazing quality of life at every level. The surroundings is energetic and inspiring, the meals are healthy, and every staff member's goal to keep seniors happy.
Conveniently located in the center of Tampa, Colonial at Tampa is a modern facility that promotes happiness, socialization, and fun.
Why Choose Colonial at Tampa?
The staff at Colonial at Tampa is dedicated to giving seniors everything they need. We encourage all residents lead an active and independent lifestyle.
We've built an environment centered on caring and compassion while providing residents with luxurious amenities. We teach our caregivers to empower adults to make the absolute most of their golden years.
What makes Colonial at Tampa different from other local senior living communities is our incredibly affordable rates. Our senior residents don't have to worry about their finances and just back and really enjoy life.
Rooms & Living at Colonial at Tampa
Residents at Colonial at Tampa enjoy an ample, private living space with a full size bedroom and full bath. We strongly encourage our seniors to make the space their own with pictures and their favorite decorations and furnishings.
Colonial at Tampa Activities
There are numerous daily activities available for seniors to choose from. The activities calendar at Colonial at Tampa is designed to engage with each residents unique interests. Our activities are the perfect opportunity for seniors pursue new hobbies, socialize with other residents, or host family members or loved ones.
Art classes
Book clubs
Cooking class
Movie night
Bingo, poker, and other games
Field trips to local attractions
Fitness and exercise classes
Schedule a Tour – Colonial at Tampa
One of our employees will gladly come to your home and pick you up so you can take a tour of Colonial at Tampa. Contact us to make an appointment to appointment at Colonial at Tampa. Call (800) 755-1458 or submit a form to get started.
Contact Us to Get Pricing & Schedule Tours
* Required Fields
By clicking Request Free Info, you agree to the terms and conditions of our Privacy Policy. You also consent that we, or our partner providers, can reach out to you using a system that can auto-dial; however, you do not need to consent to this to use our service.
---
Prefer to speak to a live person? Talk to a local senior living advisor today
(800) 755-1458
Colonial at Tampa – Reviews
What a beautiful community to place mom or dad in. Not to mention it is in prime location next to so many wonderful things to do. Darcielle and her team are awesome to say the least. The activities at this community are wonderful and really keep the residents entertained. You wont be disappointed in visiting this community.
I am so grateful that my sister lives at Colonial Assisted Living Tampa. She receives first-rate care at affordable prices. The directors and staff team go out of their way to meet my sister's individual needs. Every interaction I have had with them is positive. There were numerous requirements and deadlines that needed to be completed for benefit programs and agencies as my sister transitioned to an ALF. I felt overwhelmed, but Director of Business, Darcielle, proactively worked with our family to make sure every detail was completed and deadlines were met. We could not have done it without her.
I've worked for Colonial for almost two years now. The building is beautiful and clean inside. Friendly helpful staff around every corner, and happy residents. It's like a big family in here.
Colonial Assisted Living offers a true home environment with passionate staff. Denise Ahles, The Director of Nursing, is a caring and dedicated leader setting the tone for this community to provide excellent care and quality of life to the residents.
Great community! My mom has been there for a year great staff, facility is always clean.
Rate and Review Colonial Assisted Living at Tampa
Community Details
Colonial at Tampa Amenities and Services
Amenities
On-site salon
Wellness center
private dining options
Services
Skilled nursing
bathing assistance
grooming assistance
medication management
activities of daily living (ADL's)
Do you have questions? Speak to a local senior living advisor for free.
(800) 755-1458
Colonial at Tampa Housing and Staff
Living Types Available
Staff
24 hour staff
skilled nursing
Not sure what senior living is right for you or your loved ones? Call us today!
(800) 755-1458